Our Story
Life Link of Sheridan County was started by Dorothy Enzi, Reverend Ray Clark, and Billie Sollars.  It has been managed by a volunteer board since 1988.
Board of Directors
Our board manages the non-profit and volunteers their time to ensure personal emergency response services are always available to the residents of Sheridan County.
Stella Montano
It might be shorter to list what Stella hasn't done.  She's a tireless advocate for Sheridan Seniors and their caregivers.
Laurel Rogers
Has worn many hats in her woking career retiring from banking. Volunteers for several organizations and enjoys helping our elderly population and others in need.
Nancy Elliott
Spent thirty-two years as an educator in Wyoming. Now as a retiree she enjoys traveling, reading, gardening, church activities, and various clubs.
Tyson Markham
Tyson Markham currently serves as treasurer for the Life Link Board of Directors.  Tyson has lived in Wyoming for nearly all his life, and moved to Sheridan over two years ago.  Tyson is a licensed Civil Engineer and works for a local consulting engineering firm.  He is married and has three girls, ages 11, 9, and 8.  In his free time, Tyson enjoys staying fit, camping, golfing, and taking in all Sheridan has to offer.
Leslie Rapp
Leslea moved to Sheridan in 1977 from Wisconsin with her family. She worked in finance for Veteran's Affairs, first at Fort McCoy, Wisconsin and then the Sheridan, Wyoming VA.  After she retired from the VA, she knew she had to have meaningful something to do. Linda Johnson encouraged her to join the Life Link of Sheridan County board and she has been with us ever since.
Bill Rader
Bill was born Sept 15, 1941 in Sheridan, Wyoming.  He graduated from Sheridan grade and high school and earned the Eagle Scout badge.  Bill graduated from University of Southern California with a B.S. and MBA in Marketing 1964.  That same year he married Jane Nichols  and have been happily married ever since.  They now have three grown children.  He enjoys wood working, playing with the grand kids, travel, and horseback riding.
Bill managed three family supermarkets until 1989 when the businesses were sold.  He has served as President of the Genesis Foundation since 1994.  He also is a Master Mason Lodge #8, Kalif Shrine, & Royal Order of Jesters.
Bill served on various boards in Sheridan including the Boy Scouts, Lions Club, YMCA, Genesis Foundation, First Interstate Bank of Commerce, Teepee Association, Salvation Army Advisory Board, St. Peters Episcopal Church Vestry, and Big Horn Mountain Roundup.
Marilyn Michelena
Born & raised in Wyoming. An educator for 32 years. Her hobbies include reading, walking & gardening. She's retired & happily serving on the Life Link board for the past 5 years.
Clarence Montano
Clarence recently joined the Life Link Board. He has continued to be involved with non-profit organizations since his retirement from the Department of Veterans Affairs.
You
We're looking for new board members.  Contact Board President Stella Montano at 307.752.3552 for more information!
Our Employees
Compensated members of our organization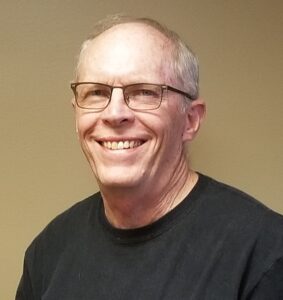 Terry Yentzer
A lifelong resident of Sheridan, Wyoming with a B.A. in Biology from the University of Wyoming. He first became associated with Life Link of Sheridan County in 1988 when the board hired his Uncle Henry's Jackson Electric to install special phone jacks in customer homes to give Lifeline monitors line priority for help calls. When Life Link founding member Dorothy Enzi retired as program manager, Terry stepped in as the current program manager. Outside of Life Link, Terry spent 18 years as a volunteer for Sheridan Area Search & Rescue and has enjoyed the adventures brought about by his other interests, such as hang gliding, hot air ballooning, scuba diving, and cave exploration.
Honored Contributors
These individuals long served on our team and contributed greatly to the organization over the years.  While they no longer play an active role in day-to-day operations, we acknowledge the organization would not be where it is today without them and reserve for them a place of honor and appreciation.
Linda Johnson
Worked in volunteer world starting with a career in Girl Scouting. Subsequently became interested in Life Link and actively served on the board for over 20 years.
Lenus Nielsen
Enjoys gardening, active volunteer for the VA Hospital, and other volunteer work. Former Chemistry and Aviation teacher at Sheridan High School. Served on the board for over 15 years.